Solutions for Managing Hearing Loss
There is no one, single way for veterans to manage their hearing loss. Fortunately, there are many techniques and technology-based solutions available to assist veterans.
Captioned telephone technology
Captioned telephones work like a traditional phone – veterans can talk and listen to each other but there's one significant difference – captions of what's said to the veteran are displayed on the built-in screen of the captioned telephone. All that's required is standard telephone service and a high-speed internet connection. The captioned telephone service* is available at no cost and can be accessed 24/7, nationwide.
Veterans with hearing loss can receive a captioned telephone at no cost through the Heroes With Hearing Loss® program. This program is sponsored by Hamilton® CapTel® and is independent from the VA disability claim process. The veteran's hearing loss does not have to be service-related.
Three ways veterans can acquire a captioned telephone:
VSO or healthcare professional can certify a veteran with hearing loss to receive a phone at no cost by downloading and completing a Certificate of Hearing Loss/Order Form or by completing this simple online form.
Veterans can self-certify their hearing loss to receive a phone at no cost.
Veterans (or a friend or loved one) can purchase a phone for $75 with free shipping. Makes a great gift, too!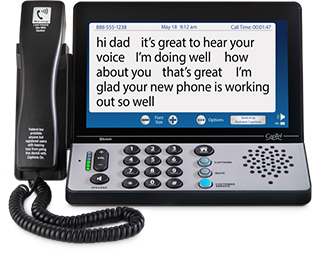 Questions?
Heroes With Hearing Loss is here for you! Our team is available to answer any questions you may have.
Features of Hamilton CapTel solutions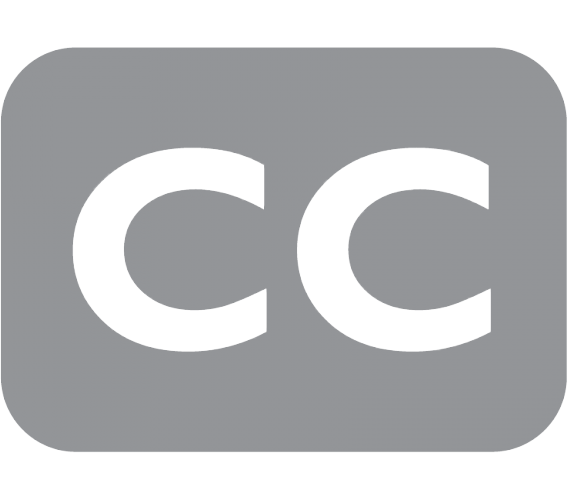 Captions are available in English and Spanish
Hamilton CapTel is available in English 24 hours a day, seven days a week and Spanish captions are available from 7 a.m. to 11 p.m., CT, seven days a week.

Fast, accurate captions on every call
Advanced voice recognition software is used to process calls and as necessary, a live Captioning Assistant (CA) generates captions of what's said.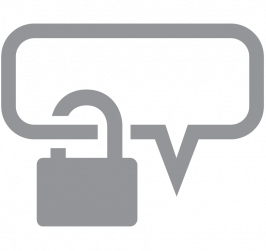 Every call is 100% confidential
All calls remain strictly confidential. As required by law, Hamilton CapTel is NOT permitted to disclose information or retain any records, documents or recordings of any conversation.
Captioned Telephone Solutions for Veterans
Whether you're at home, at work or on the go, there's a solution that fits your need.
Available solutions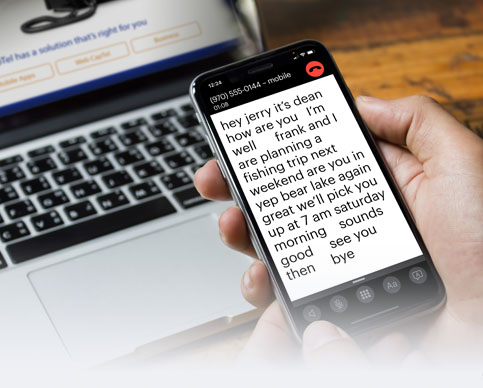 Heroes Mobile™ CapTel®
The Heroes Mobile CapTel app for iOS and Android™ delivers the same reliable Hamilton CapTel experience customers have enjoyed at home and at work for years – now at your fingertips wherever you go. It syncs with all your mobile device contacts, provides captions on incoming and outgoing calls, enables you to access your call log and review captions later, and is fast and accurate. Get it today on the Apple App Store and Google Play Store!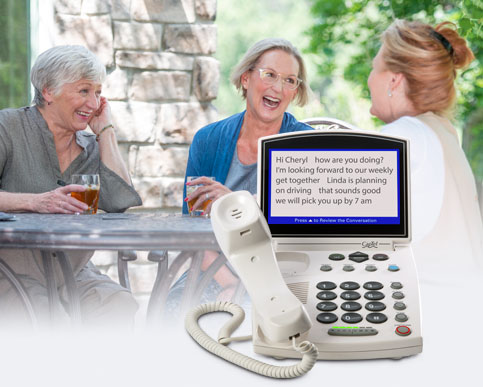 Hamilton® CapTel® 840i
With the size and feel of a traditional telephone, the Hamilton CapTel 840i captioned phone offers conventional buttons for navigating on-screen menus, contacting Customer Care, initiating speed dial and adjusting tone and volume.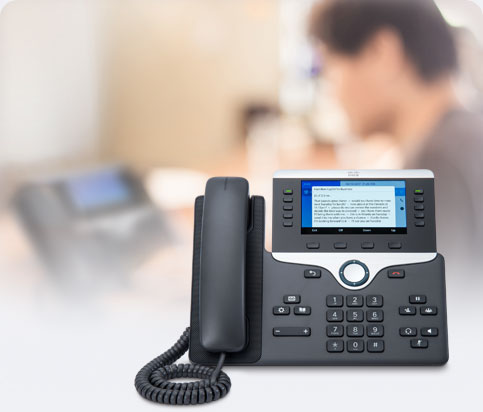 Hamilton® CapTel® for Business, Interconnected by Tenacity™
Hamilton® CapTel® for Business, Interconnected by Tenacity™ is available to veterans who experience hearing loss and have difficulty hearing on the phone while in the workplace. Hamilton CapTel displays captions of what's being said on the screen of a Cisco® phone, allowing clarity and confidence on every business call. All that's required is a compatible Cisco phone, the Hamilton CapTel for Business application and a Hamilton CapTel for Business account. Learn more about Hamilton CapTel for Business now!
*The captioning service is provided at no cost to the user.